Before you plan your trip to the lake, you will want to consider the cost to rent a boat, what kind of boat you will need, and how long you will need to rent the boat for. 
On average, renting a boat typically costs anywhere between $150 to $600 per day. Nevertheless, depending on the boat type you are looking at, location, and the season, the price could vary from $75 (for a small fishing boat) to $5,000 and more (for yachts) per day.
Deciding which boat is right for you will depend on what kind of activities you are hoping to do in your boat, how many people you want to take with you, your budget, and so many other factors. Check out the table below to compare the rental prices of 15 boats and see what's in the budget.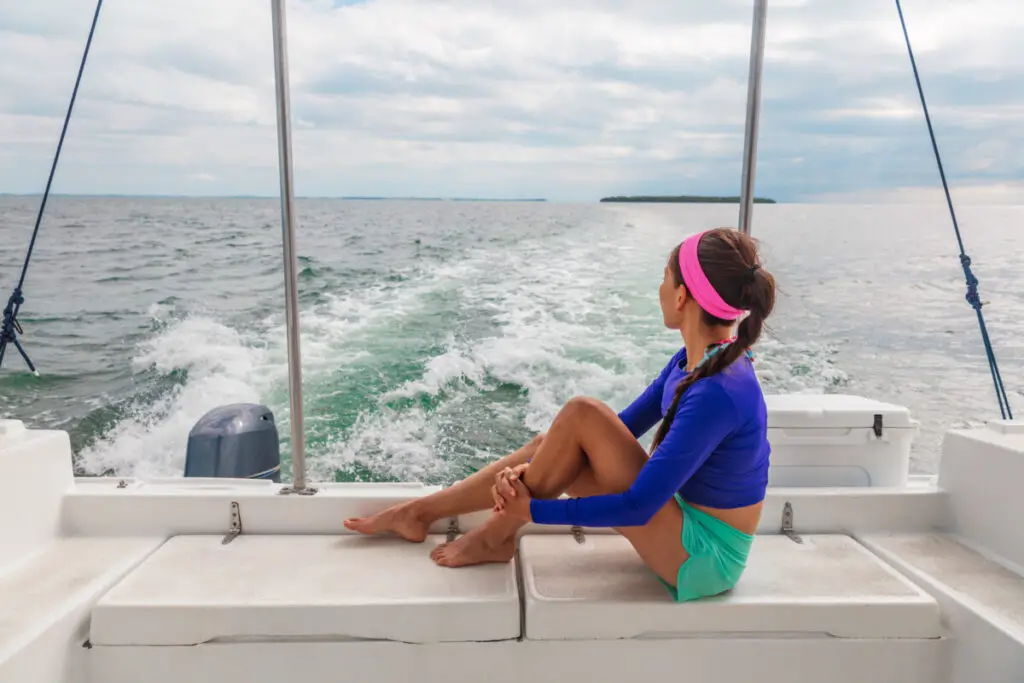 Factors that Affect Boat Rental Pricing
Boat rental prices can vary a lot based on the rental company, season, boat type, and location. Each boat rental service will have its own pricing set up for every kind of boat. Below is a table representing the average rental prices for each category.
Related Post – What boat length should I need? Check this article to know what boat length fits your family's needs before renting one.
Price by Boat Type
| | | | |
| --- | --- | --- | --- |
| Boat Type | Hourly  | Daily | Weekly |
| Airboats | $7-$100 | $60-$500 | Not Common |
| Bow-rider Boats | $40-$300 | $200-$900 | $2,750-$5,000 |
| Cabin Cruisers | $200-$400 | $1,000-$1,450 | $5,000-$6,500 |
| Catamarans | Not Common | $500 | $16,000 |
| Cuddy Cabin | $125-$250 | $175-$800 | $1,900 |
| Deck Boats | $140-$600 | $400-$550 | $2,500 |
| Fishing Boats | $110 | $160-$1,000 | $3,800 |
| Jon Boats | $25-$60 | $75-$195 | $1,200 |
| Pontoon Boats | $150-$300 | $430-$1,200 | $2,975-$4025 |
| Sailboats | $25 | $180 | $1,000 |
| Speedboats | $150-$200 | $550-$1,200 | $3,850 |
| Trawlers | $170-$430 | $700-$3,300 | $3,900-$5,600 |
| Small Yachts | $250-$580 | $1,000-$5,000 | $35,000-$90,000 |
| Houseboats | Not Common | $1,800 | $8,200 |
Price by Season
In the off-season, some boat rental places will offer a discounted price to bring in customers. So going boating during the off-season could save you a lot of money. Prices for daily small yacht rentals can vary by about $400 just depending on the season. 
Most boat rental companies will advertise an off-season price and an on-season price, but some have three or four designated seasons. The seasons are defined by certain dates, and to get an estimate; you have to look within the date bracket of when you are going.
For example, Lake Powell Resorts and Marinas has prices listed for a 24' powerboat rental in three date brackets:
1/1/22 – 6/4/22 for $499.00
6/5/22 – 8/20/22 for $600.00
8/21/22 – 12/31/22 for $499.00
Some boat rental places will vary the price by specific dates. With these rental places, in order to see a rate estimate, you must choose the dates you want to rent the boat. Typically, you will choose the dates on the calendar that you want to have the boat for, and the price you get will include any variation due to the dates chosen, the type of boat, and how many days you intend to rent the boat. 
Price by Location
Another thing to consider when you are looking at renting a boat is the location. When you are ready to plan your trip to go boating, it's a good idea to compare the costs of boat rental companies nearby. When you have chosen a destination, you should look at boat rental costs for companies in the location during the season you will be visiting. 
Near popular lakes, rivers, or other bodies of water, rental prices will generally be higher. This is because the concentration of people wanting to rent is higher, so the demand for boat rentals goes up. In smaller lakes or lesser-known places, rentals can be more affordable. If you plan a trip to a small lake, you are more likely to have better prices but fewer options for boats.
In the table above, there are a lot of types of boats you can rent, but you may not be able to rent each type at every rental place. Smaller lakes generally don't have the option for yacht rentals. The Mississippi River is abundant with houseboat rentals, but you won't find many speed boat rentals near the big river.
Related Post – What boat type to rent? Check this article (scroll down a little) to view the boat types suited for different activities.
Some boats aren't very common for renting and won't be available in some locations. For example, airboats aren't commonly rented out. Airboats are generally used for guided tours. In an airboat tour, you will be able to ride on the airboat, but the tour guide will drive the boat along a charted course. 
Suppose you are going boating for the experience. In that case, you will need to plan your location carefully to ensure that your desired boat will be available and that it will be the best option for the body of water you are visiting. If you want to plan a trip around a location, you should plan to get the boat best suited to the environment you will be visiting. 
Smaller Boats
Small boats, such as kayaks, canoes, paddleboards, inflatable raft boats, and other small manual-powered boats, can also be rented out on a daily or weekly basis.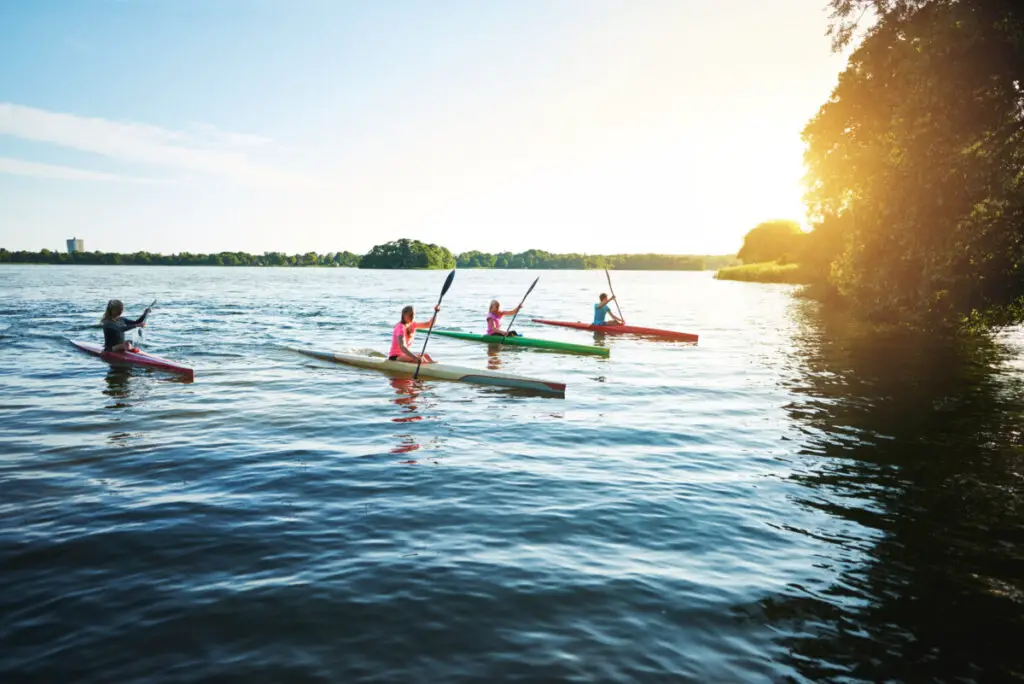 A small boat won't give you the power or space of a large boat, but they still offer a fun alternative to driving around the lake. Putting in some manual effort to enjoy your afternoon can be rewarding and offer some good fun and lasting memories.
Also, when you rent a small, manual boat, you will be able to learn a new skill. Learning to kayak down a river and navigate the gentle flow and the calm eddies can be a real treat. 
Kayaks
For a fun personal boat, try out a kayak. To rent a kayak for a day, you can expect to pay about $25 to $35. To rent a kayak for a whole week, you can expect to pay around $90 to $120. If you rent as a group, many rental places will offer a discount. 
Paddleboards
Paddleboards are a fun way to get around. Test your balance by trying out a paddleboard, and maybe even take a splash in the water. Renting a paddleboard only costs about $20-$25 per day and $80-$100 per week. 
Canoes
Canoes fit more people than a kayak but still give you the experience of rowing near the water. To rent a canoe, you can expect to pay $25-$40 per day or $80-$280 per week.
Yachts
What sounds more luxurious than a yacht trip? While renting a yacht may seem like a big ordeal, you can actually rent a smaller yacht at a more affordable price. The prices for smaller yachts are listed above in the table, but you will need to prepare a little more cash to rent a larger yacht. If you want to rent a big yacht that can be sailed through the sea, you will likely want to charter the yacht. 
Charter a Yacht
When you charter a yacht, you generally get more included than just a yacht. Chartering a yacht varies depending on the company, but some standard amenities are:
Fuel
Food and Drinks
Captain and Crew
Water and Electric
Water toys
Some packages will include everything above, but others will have separate costs for each category. Some even offer diving equipment and instruction as part of the yacht charter. 
Other costs to consider when chartering a yacht are docking prices, taxes, tips and gratuity to the crew, and communication. Chartering a yacht for a week can cost around $10,000-$20,000, but you will need to factor in other costs or choose a more pricey package to have it all included.
To get an inclusive premium yacht package, you can pay up to $150,000-$500,000 or more per week. The cost of a yacht charter varies widely when you consider the amenities you want to include. As with other boat rentals, prices for renting a yacht may vary by season, destination, and type of yacht. 
Other Costs to Consider
Insurance
When you rent a boat, most rental agencies will ask for boat rental insurance. This insurance may be covered in the boat rental cost, or it may be an added cost. Some boat rental agencies won't require insurance on top of the rental prices, but they will instead require a deposit as a type of insurance.
To rent a deck boat for a day, some companies will require a deposit of $800. If the boat is brought back safe and sound, you will get your deposit back, but if any damage is found, severe, or light, they may keep your deposit or some portion of it. 
Fuel
When renting a boat, be sure to keep the fuel prices in mind. Some rental companies will include a certain amount of fuel with the rental and expect you to bring the rental back near empty.
Sometimes, you may have to pay extra for fuel or fill the boat up yourself. Be sure to ask the boat rental agency you are renting from about fuel and how it is charged. 
Lake and Parks Passes
Before you take your boating or fishing trip, be sure to check out prices for the state or national park you'll be attending. Even if you aren't going to a state or national park, you may still have to pay a fee to recreate where you are traveling in the water.
If you are traveling to a national park, an annual national parks pass only costs $80. With this pass, you can travel to any national park within 12 months from the time you bought it. If you don't have an annual pass, you may need to purchase a day or week pass for the park you are going to. 
A state park will require a state parks pass. There are also county parks or other nature reserves or parks that have different pass types that you need to purchase. 
Which Type of Boat Should I Rent?
Knowing about types of boats could help you decide which type is best for your water excursion. 
Airboats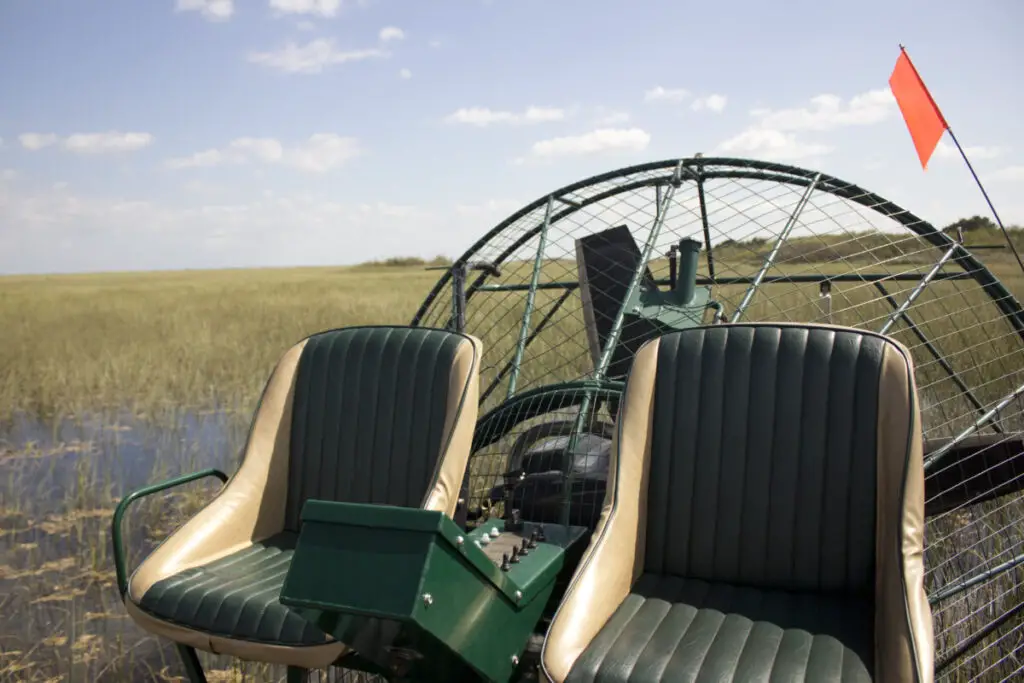 Airboat rentals aren't very common, but they offer a unique experience. Airboats aren't generally rented out for anyone to captain, but they are usually used as tour boats on guided tours. 
Also, airboats are most commonly rented on an hourly basis rather than on a daily or weekly basis, but you can still rent one for a day.
Bowrider Boats, Deck Boats, and Speedboats
Bowriders and deck boats vary in pricing and luxury. These boats are great for water sports such as water skiing, wakeboarding, and tubing. These boats are fast on the water and offer a more thrilling ride. They are perfect for casual family outings.
Deck boats hold more people and are a little more luxurious than a common speedboat. 
Cabin Cruisers & Cuddy Cabins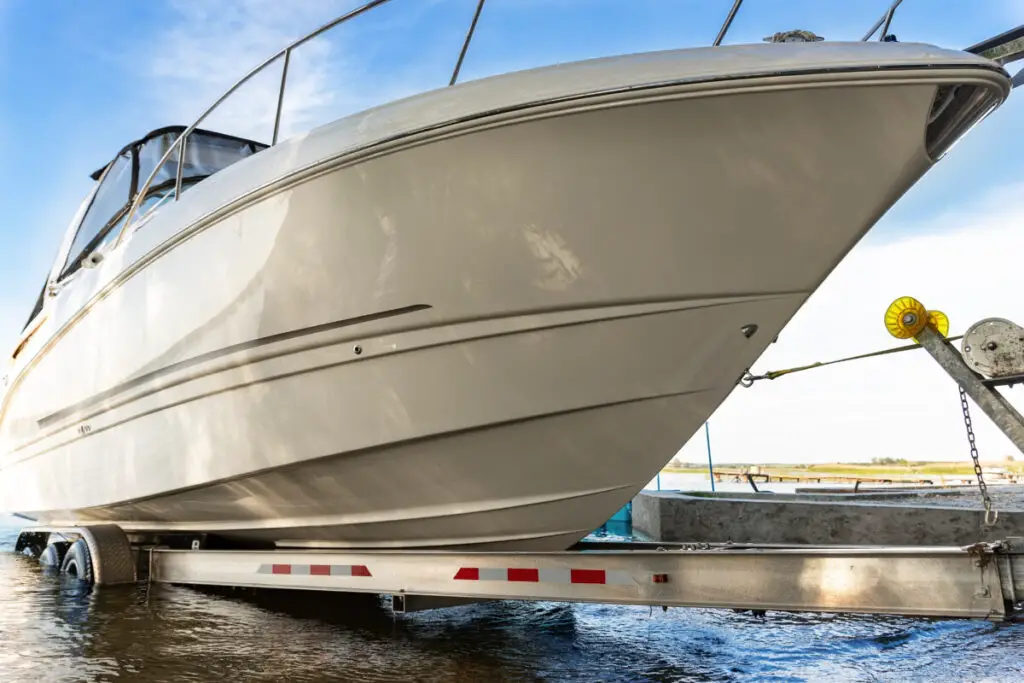 Cabin cruisers are fun family outing boats. They are commonly used for swimming, tanning, and coasting near the shore.
Cuddy cabin boats are generally cheaper to rent. This is because they are a little less luxurious and slower compared to cruisers.
Both have cabins to sleep or rest, but cabin cruisers have bigger ones than the cuddy.
Fishing Boats & Jon Boats
Fishing boats and Jon boats, sometimes called skiffs, make for a great day out fishing. Fishing boats aren't all built the same, but they are usually pretty simple. Sometimes you can rent a fishing boat fully outfitted for a fishing trip with poles and other fishing equipment.
This is a great option for those traveling who won't have room to pack all of their fancy fishing gear. Jon boats are great for fishing because of their fixed seating, pole holders, and catch storage. 
Pontoon Boats
Pontoon boats are ideal for relaxing days out on the water. They are comfortable, open, and built to fit more friends and guests. Pontoon boats can be used for fishing, light water sports, or drifting on the waves. 
Sailboats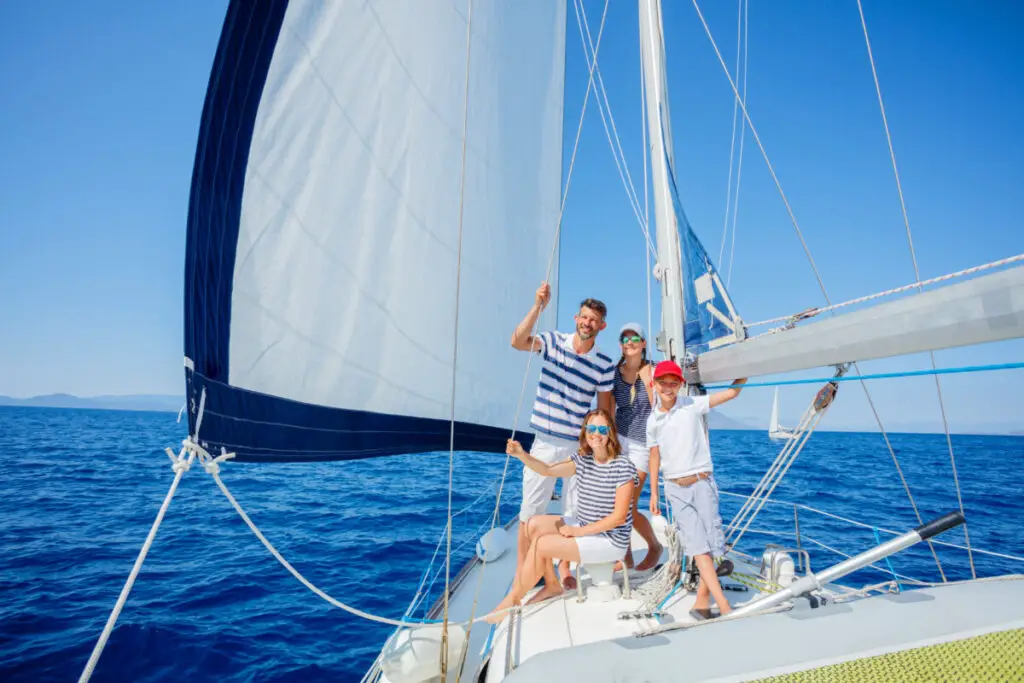 Most people who don't have experience with boats should be more cautious about renting a sailboat. Sailboats can take a lot of work and expertise to sail. You may be able to hire a captain to sail for you, or you could sign up for courses to learn how to sail.
Learning to captain a sailboat is a rewarding experience that you can treasure for a long time, but it does take more work than cruising around the lake on a deck boat. 
Trawlers
Trawlers are like small yachts and are frequently used for fishing. Trawlers are generally luxurious and are equipped with A/C, bathrooms, and cabins. Renting a trawler is a more affordable alternative to a yacht that still offers some luxuries and space. 
Houseboats
A houseboat is a great family reunion boat. Houseboats are perfect for weeklong or weekend excursions with lots of people. If you rent a houseboat, you may want to check for amenities like water toys or onboard games. If they are omitted, you may want to bring your own or rent more equipment to keep yourself and your guests entertained.
Bottom Line
Deciding which boat fits you will depend on what kind of activities you are hoping to do in your boat, how many people you want to take with you, your budget, and many other factors.
A typical fishing boat will cost $160-$1,000 to rent per day and around $110 hourly. Pontoon boats can cost $430-$1,200 per day and $150-$300 per hour. Sailboat rentals by day can cost around $180. A speedboat for a day will cost $550-$1,200. Hourly, a speedboat rental costs $150-$200.