Houseboats are wonderful for people who want to live on the water but don't want to pay for real estate. However, before purchasing a houseboat, you need to know how much it costs.
On average, houseboats typically cost anywhere between $150,000-$500,000. However, the price varies greatly depending on the houseboat's size, brand, and material. Yet, you can buy certain types of used houseboats for a lower price, but it isn't easy to find a new houseboat that costs under $50,000.
There are many different houseboats on the market, so we have compiled a list of some of the best ones. Here you will find information on some of the best-rated houseboats in various categories. But, first, let's look at 11 examples of houseboats and compare their prices.
| | | |
| --- | --- | --- |
| HouseBoat | Price | Boat Length |
| Catamaran Cruiser | $69,000-$72,000 | 35 ft |
| CaraBoat | $114,500 | 32.4 ft |
| Boat A Home | $158,348 | 25.9 ft |
| Savanti 31 Docksider | $175,000-$449,000 | 21 ft |
| The Zion | $239,999 | 47 ft |
| Landau 24 x 40 Pontoon Houseboat | $32,000+ | 40 ft |
| 65 ft Titan Houseboat | – | 65 ft |
| Armadia Pontoon Houseboat | $160,000 | 45 ft |
| Stardust Cruisers Houseboat | $18,995-$385,000 | 55 ft+ |
| Gibson Cabin Yacht 5000 | $290,000 | 50 ft |
| V-Series by Destination Yachts | $499,999 | 55 ft+ |
Since some houseboats mentioned above aren't in production anymore, we have mentioned their used prices. To learn about some of the most popular types of houseboats and how much they cost, read below!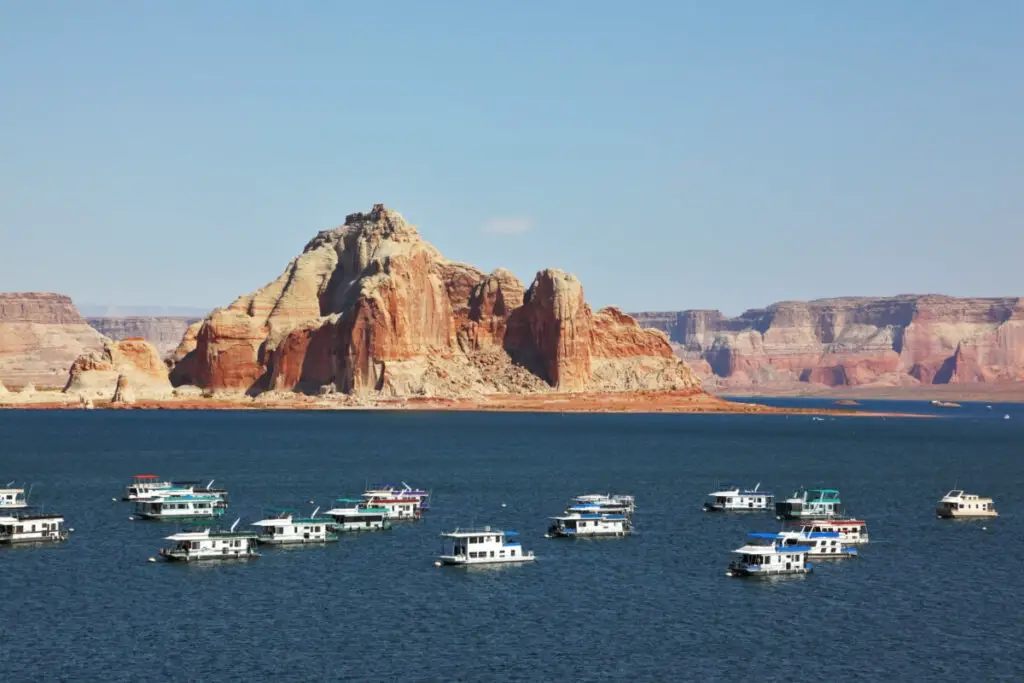 Categories of Houseboats
There are two main categories of houseboats: non-cruising/static and cruising houseboats.
Non-cruising/static houseboats are just like they sound: they are not meant for sailing or traveling. They are simply meant to dwell in on the water. This type of houseboat is usually tied up at a certain spot on a dock in a marina. These boats contain the basic amenities of a regular house on land but are built with propellers for water travel.
Cruising houseboats (also called bluewater houseboats) contain the same basic housing amenities as a static houseboat but are also equipped for travel on water. They come with an engine and rely on fuel to move. These boats are not made for open water travel, but they handle smaller bodies of water like rivers and lakes well.
Related Post – How much does a used boat cost? Check this article to see the prices of 80 used boats of various boat types along with their original prices.
Pontoon Houseboat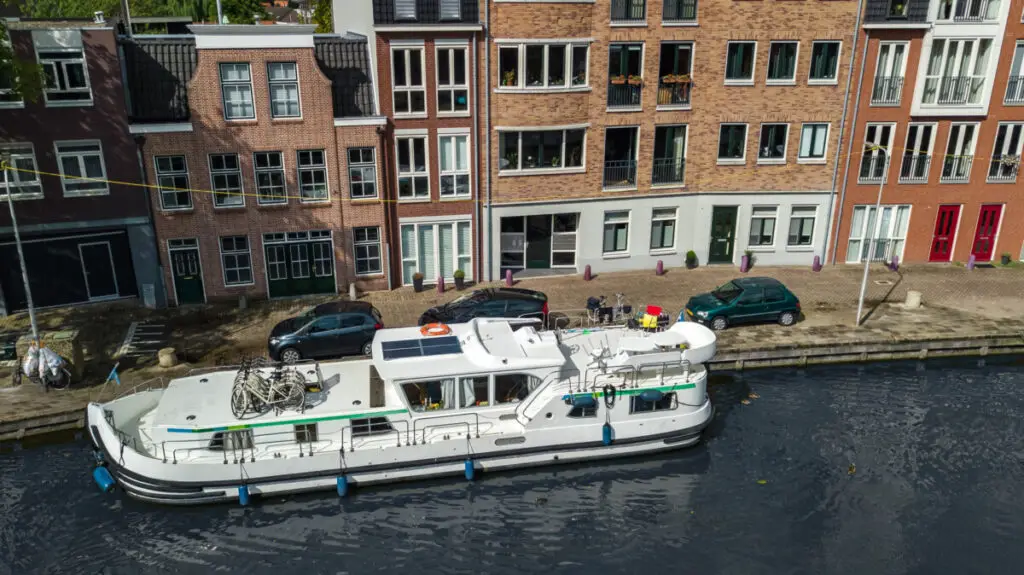 A pontoon boat is a boat that uses floats to remain buoyant on the water. These pontoons contain much reserve buoyancy, which allows designers to create large deck plans with various accommodations, including expansive lounge areas, stand-up bars, and sun pads.
Depending on the size and type, these houseboats can accommodate a capacity varying from 6-26 people. Pontoons are ideal for lakes and rivers. Below are a few popular types of pontoon houseboats:
Landau 24 x 40 Pontoon Houseboat
Landau 24 x 40 Pontoon Houseboat is known as the "floating camper" due to its included amenities. Its total dimensions of 24 x 10 feet with a 40 x 12.5 feet pontoon deck.
These dimensions are further broken down into a 10 x 12 feet covered front porch and 6 x 13 covered back patio along with a sun deck and a roof. 6-8 people could sleep comfortably on this houseboat. You can buy this houseboat used and remodeled for $32,000+.
65 Feet Titan Houseboat
The Titan is a triple-decker houseboat that includes a home theater, a fireplace, a full bar, a master suite, and a private deck area on the 2nd story. The 3rd deck includes a hot tub big enough for 8 people, a waterslide, and a dining area.
It has 8 HD flat screens, 4 refrigerators, 6 private rooms, and 3 full bathrooms. There is enough entertainment, space, and privacy for up to 26 people on this boat. Unfortunately, this houseboat does not come cheap due to its many wonderful amenities.
It's tricky to find one for sale, but you can spend the whole summer on this luxurious houseboat for $14,390.
Armadia Pontoon Houseboat
The Armadia is 80 feet and one of the longest Pontoon models that there are, which of course, comes along with more space. Although this is typically a two-story houseboat, it can accommodate a family of six and can hold up to twelve people at a time. The dimensions for this are 45 x 12 feet.
Check out this article by CrownSurvival to see more pontoon houseboat choices.
Related Post – What boat length should I need? Check this article to know what boat length fits your needs (family) before buying one.
Trailerable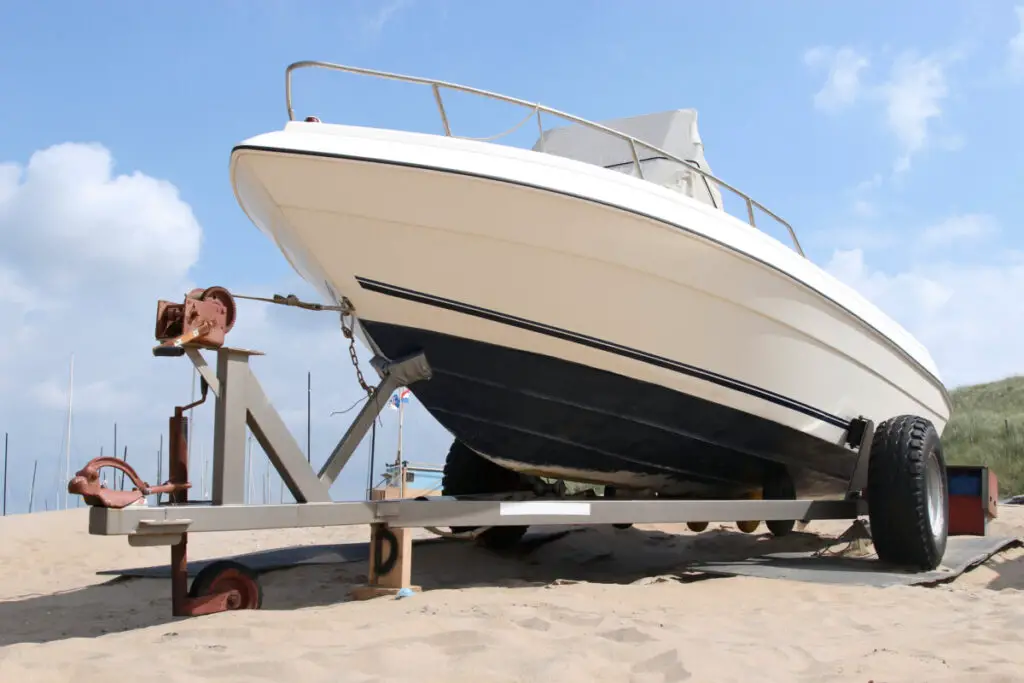 Trailerable houseboats are smaller than regular houseboats; they are small enough to be carried by trailer. Trailerable houseboats are typically much smaller than standard houseboats. As a result, their living spaces are smaller, and their home features generally are fewer.
They are ideal for those who only want to enjoy living on the water occasionally rather than full-time. Lengths are usually under 30 ft, and their average weight can range from 3,500-9,000 lbs. Three of the best trailerable houseboats are CaraBoat, Catamaran Cruiser, and Boat A Home.
CaraBoat
The CaraBoat is like an RV-houseboat hybrid. The 790 model starts at $114,500, while the 870 model starts at $124,500. With 360-degree viewing through panoramic windows, the CaraBoat offers impressive ventilation and sits well ahead of traditional travel trailers.
The large windows provide great views so you can take in the scenery while traveling and make it easy to navigate when steering in boat mode. The windows do come in with flyscreen and blackout blinds.
This boat has a versatile entertaining area comfortably seating four people, a folding master bed that converts to a couch for daytime use, a modern kitchen area with everything you could need, and a bathroom with a vanity, shower, and toilet. 
Catamaran Cruiser
If you're looking for an affordable houseboat, the Catamaran Cruiser is a great option to consider. This 10' x 35' boat was built with the first-time houseboat owner in mind. You can buy this boat used for $69,000-72,000.
This boat may be small in size, but it's packed with amenities. It is spacious and has a kitchen with a full-sized fridge and a roomy bathroom area. The boat also has a 300 sq. ft. deck that's perfect for relaxing, entertaining, or simply getting a nice view of the water.
In summary, these boats are relatively affordable, a perfect beginner houseboat, and come with ample deck space. This is one option you should consider as you look for a houseboat.
Boat A Home
This houseboat is similar to the CaraBoat. According to their website, this trailerable houseboat is the #1 houseboat in the world! Some of the cool features of this type of houseboat include a Suzuki motor, a pop-up mini bar, and an easy fold-out double bed that also functions as a sofa.
This boat also has some cool tech and light features, including a wireless phone charger, LED cup holders and underwater blue led lights to light up the night, and rear roller blinds to let sunlight in or block it out during the day.
Do you have kids or other guests who need a place to sleep too? No problem! The dining table also functions as a bed with single or double bunk options, so there is a decent amount of sleeping space for you and all your guests. With this boat, you also do not need a permit to tow this boat.
This boat is great for those who love camping, as it also functions as a land camper when hooked up to a trailer. This boat is perfect for smaller families or groups. The 7.9 Meter Quest Model starts at $158,348.
Savanti 31 Docksider
This houseboat is a powerboat that can cruise up to 14 miles per hour. The dual catamaran hulls that power this boat provides improved stability, lessening seasickness, or shifting onboard items.
These boats are also built specifically to resist saltwater's corrosive properties, with a lifetime quality that's projected to be at least 75 years. The Savanti 31 is not as large or spacious as some houseboats but is outfitted with all of the major appliances you need for comfortable living.
It comes with a walk-around king-size bed, a fireplace, A/C and heating, a fully-equipped state-of-the-art kitchen, and a big-screen TV. The Savanti 31 is one of three types of Eco-Sea Cottages that are either framed with wood, metal, or fiberglass like the Savanti. The prices range from $175,000 to $449,000.
Floating Home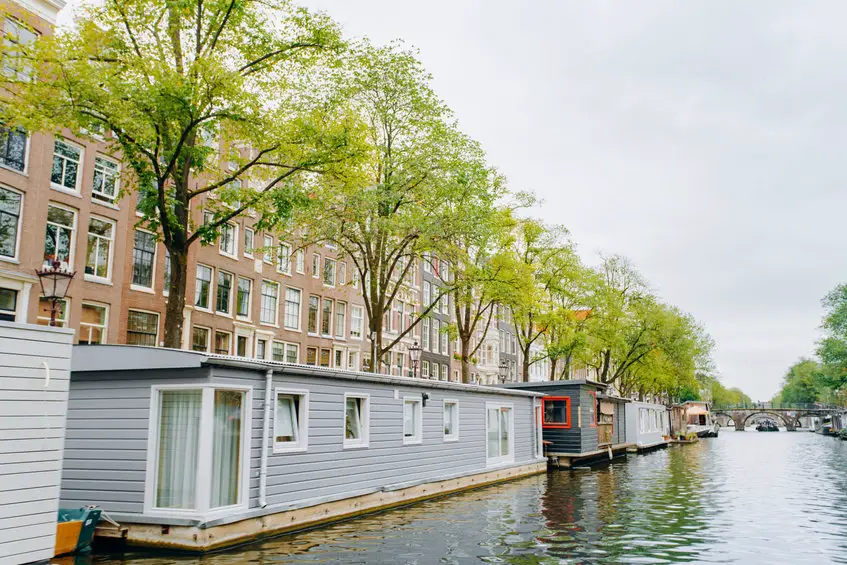 Floating homes are non-cruising houseboats that are perfect for those who want a place to settle in and stay on the water! The cool thing about these is that many of them are more like regular land homes than boats.
They look just like a house floating on the water! Some of them are structured like and look like a land home, but they are built on a floating structure. If a non-mobile houseboat is what you're interested in, here are a few types of floating homes to consider:
The Zion
The Zion is a 14' x 47' floating home with two bedrooms and a loft area, all of which can comfortably accommodate up to eight guests. This houseboat seriously looks like a regular house that just happens to be floating on the water.
It has a beautiful design with high ceilings and lots of windows that bring natural light into the home. It has 2 bedrooms as well as a loft space that you can use for storage, as a sleeping area, and more! The Zion also has a huge 14′ x 14′ deck space that can fit a hot tub, a full bar, and a grill.
It also has a fully-equipped chef's kitchen with stainless steel appliances. This houseboat is incredibly functional and has everything you need to enjoy a comfortable vacation on the water with friends or family. The starting price for this boat is $239,999.
Because floating homes are not mobile, many of them are stationed at docks or in marina communities. These start at $200,000 and cost more than $500,000.
Related Post – How much does a cabin cruiser boat cost? Check this article to know the average prices of cabin cruisers, which are alternatives to houseboats.
Yacht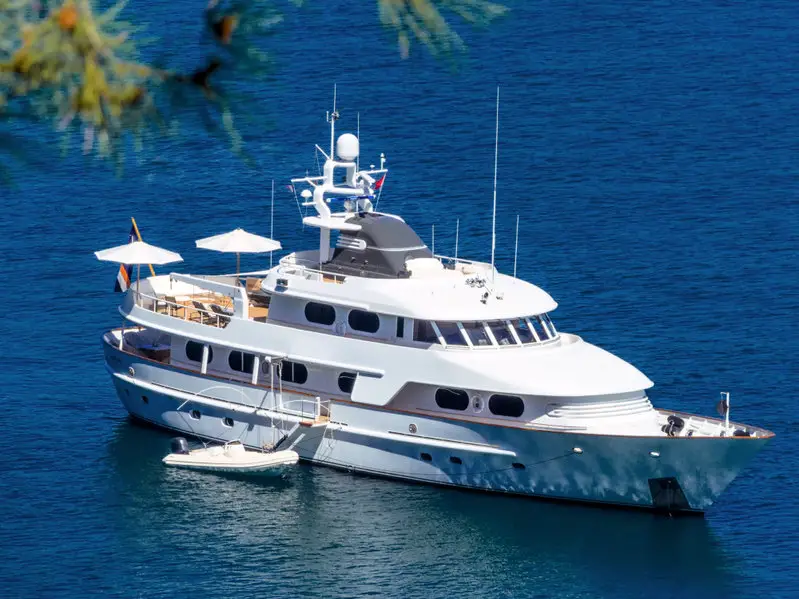 The yacht is one of the more expensive types of boat. You would generally pay at least $500,000 for a yacht, but it is not uncommon for the price of a yacht to reach up to the multi-millions. Most people don't live on their yacht year-round but use it as a water-based vacation destination during certain parts of the year. Here are a few types of yachts and their prices.
V-Series by Destination Yachts
If your dream is to cross oceans in your houseboat, the V-Series by Destination Yachts is the perfect vessel to do it in. Unlike many other models on the market, this particular vessel is built with a full twin-compartmented hull, which keeps the boat stable even in rough ocean waters.
This is the largest houseboat from Destination Yachts, at 18' wide and 55' to 100' long, with plenty of customizable options for you due to its open floor plan. This yacht also has a chef's kitchen with stainless steel appliances, quartz or granite countertops, and hand-crafted cabinetry.
Standard features include Jet Ski ramps, floodlights, a swim platform ladder, hardwood-look flooring, a sun lounge, a wet slide, and a host of appliances like a washer/dryer and dishwasher. It has a full-sized bar and custom outdoor furnishing so you can truly make it your own. Because it is a customizable model, the pricing of it ranges. You can buy a 2016 model starting at $499,000.
Gibson Cabin Yacht 5000
Gibson boats are a popular and well-respected brand of custom boats. The Gibson Cabin Yacht 5000, by the way, the length is 50 ft, starts explicitly at $290,000.
This boat comes with all new appliances, two full-sized beds, two built-in stereo systems, all-carpeted interiors, and many other unique features. This boat is ideal for freshwater lakes and rivers.
Stardust Cruisers Houseboat
Stardust Cruisers is the oldest continually-operating houseboat company in the United States. This fully-customizable boat is a hybrid of a yacht and a houseboat. It combines the unique and cozy features of a houseboat with the style of a luxury yacht.
It is made of aluminum and fiberglass panels, so the wood-free wall structures allow every Stardust customer to choose any shape of inset-free form windows for their houseboat. This type of boat may not be suited for offshore cruising, so using this boat for cruising lakes and rivers is best.
They are typically used for overnight cruising, and you can buy one used or new. The price for one of these yachts ranges between $18,995-$385,000.
Luxury
Katherine Superyacht
Classically furnished, this particular Luxury houseboat contains six guest cabins and the capacity to hold twelve people at a time. It has two levels, is furnished with cherry wood, and has a fireplace feature!
Atlas X Series
Super expensive, but well worth the cost if one loves the water and dreams to live on it. There are different kinds of models within this series. The X series has sixteen beds and six baths. There are two other series, the V and the GT series.
The V Series has seven rooms, and three baths, with a starting price of $500,000. The GT Series has accommodations of nine beds, four baths and has a starting price of up to one million dollars!
The floating Seahorse
With three decks, an underwater level, a sea level, and a deck level, the Floating Seahorse is half-made of glass for the windows, which will naturally allow sunlight to flow into the rooms.
Key Takeaways
Houseboats typically cost anywhere between $150,000-$500,000. The price mainly depends on the boat's size, make, model year, modifications, and speed. Yet, houseboats without certain features (fewer modifications) can cost less.
Deciding which houseboat is right for you will depend on how many people you want to take with you, trip durations, your budget, and so many other factors. Although it is ultimately up to you what houseboat you purchase, all of these models should be considered.