Navigating the boat market for "cabin cruisers" can be intimidating with such an array of design features, models, and brands. One of the ways to narrow down your options is to pinpoint your budget and read up on your options, which you will find here.
A cabin cruiser boat typically costs anywhere between $30,000 (for the most basic model) to $900,000 and more (for the most luxurious and largest cabin cruiser). The cost of a cabin cruiser depends on its length, model year, cabin/cockpit accommodations and furnishings, and speed ranges.
Deciding which cabin cruiser is right for you will depend on what kind of activities you are hoping to do in your boat, how many people you want to take with you, your budget, and so many other factors.
Here you will find information on some of the best-rated cabin cruisers in a variety of categories. First, let's look at 15 examples of cabin cruisers and compare their used and new prices.
| | | |
| --- | --- | --- |
| Boat | Used Price | New Price |
| Pro-Line 20 | $20,000 | $40,000 |
| 270 Express Cruiser | $25,000 | $115,000 |
| Sea Hunt Ultra 229 | $50,000 | $70,000 |
| Sea Ray 330 Sundancer | $30,000 | $250,000 |
| Glastron GS 259 | $50,000 | $100,000 |
| Chaparral 240 Signature | – | $15,000 – $50,000 |
| Four Winns Vista 255 OB | $75,000 | $200,000 |
| EXPLR 9 | $70,000 | $150,000 |
| Regal 33 Express | $180,000 | $290,000 |
| Aspen C100 | – | $300,00 – $500,000 |
| Grand Banks Eastbay 44 | $200,000 | $900,000 |
| Greenline 39 Hybrid | – | $480,000 |
| Aviara av40 | $700,000 | $900,000 |
| Outrage 420 Anniversary Edition | $500,000 | $1,000,000 |
| Bertram 31 Flybridge Cruiser | $40,000 – $395,000 | – |
Related Post – How much does a used boat cost? Check this article to see the prices of 80 used boats of various boat types along with their original prices.
About Cabin Cruisers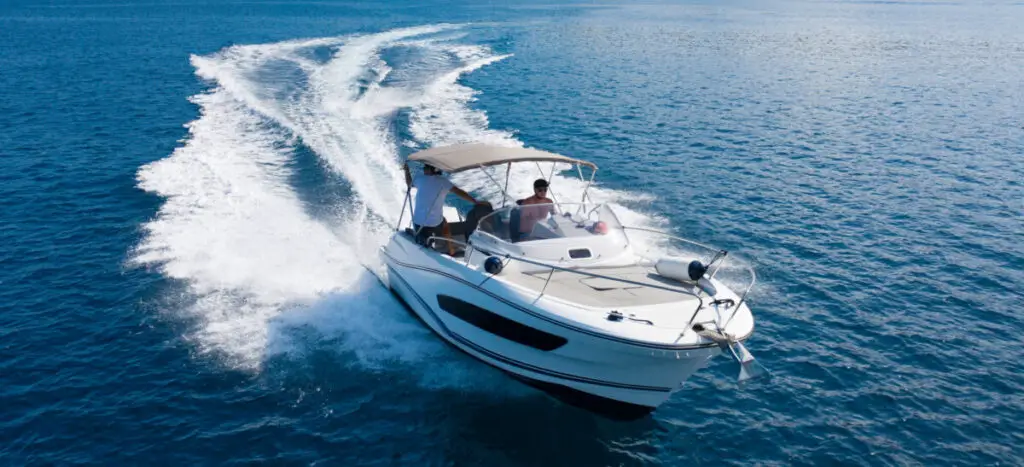 Cabin cruiser boats are powerboats that include a covered cabin to accommodate multiple passengers. They have a distinguished look at the wide, V-shaped hull. They are perfect for fishing, water skiing, and tubing, and the cabin includes a place to cook and sleep for overnight stays.
Some people even call them "an RV on water" with many of the comforts of home. Cabin cruisers are typically 25 to 45 feet in length—anything larger, and you are looking at a yacht. Cabin cruisers are unique because they don't require a full crew to operate and can be trailered.
This is a huge draw for those who might not live near water and don't want to have to pay someone to trailer and store their watercraft. However, the largest cabin cruisers may be above trailer-able weight.
Cabin cruisers are built to be very stable and generally do very well, even on rough waters. They are large boats that can handle serious waves all while keeping passengers safe and dry in the cabin.
Types of Cabin Cruisers
Many different types of boats fall under the category of "cabin cruiser." Each boat will be designed with a specific purpose or activity in mind. If you are interested in purchasing one, you might first consider what you will be using the boat for. Here are the most common types of cabin cruisers:
Canal Cabin Cruisers are used when navigating more shallow and narrow waters like in rivers or canals.
Downeast Cabin Cruisers are used for heavy-duty fishing like lobstering.
Sport Fishing or Convertible Cabin Cruisers are generally used for fishing in coastal waters with plenty of deck space.
Express Cabin Cruisers are powered by twin diesels allowing them to reach higher speeds and have increased towing abilities.
Pocket Cabin Cruisers are the smallest version of a cruiser boat.
While some cabin cruisers are very specialized, this is a motorboat that is very versatile, and just because your cabin cruiser isn't specifically designed for a particular activity, it doesn't mean it won't be up to the task.
Related Post – When is the best time to buy a used boat? Check this article to know the best times of the year to buy a used boat, along with other fascinating factors to consider "saving money."
Small/Starter Cruisers Under $115,000
Pro-Line 20
The Pro-Line 20 is a smaller 20-foot cabin cruiser that does not have a fully covered cabin but still includes many features that classify it as a cabin cruiser. This boat costs $20,000 used and $40,000 new. The boat is completely wood-free, making it resilient to water damage.
The Pro-Line 20 is popular among weekend fishers with a 35-gallon baitwell, a large storage box that works as a fish box, a rod rack, and an onboard porta-potty below deck. The boat allows for seven passengers and includes a small cabin below deck in the cushioned berth area, which could comfortably sleep two people.
This boat is most commonly used on large lakes and calm sea waters. The boat can handle the rough open ocean, but this would only be recommended for an experienced captain who picks a good sea day. This is a boat that cannot make trips longer than about 60 miles per trip.
Chaparral 240 Signature
The Chaparral brand is known for being reliable and durable, all while offering a smooth and fuel-efficient ride. The Chaparral 240 Signature costs from $15,000 to $50,000. It is constructed with a V-plane, making it seaworthy for almost any sea condition.
The boat is compact at 26 feet long and is recommended as an excellent option for a starter cruiser boat. While small, there is plenty of comfortable seating for eight passengers. While uncovered, the cockpit sits very low in the boat, keeping all aboard dry.
The cabin is almost completely consumed with the dining area, which converts into a queen bed. Another twin bed is tucked underneath the cockpit area.
270 Express Cruiser
The 270 Express Cruiser is an economical but functional choice for a cruiser cabin priced at $25,000 used and $115,000 for newer versions (although this is a discontinued model). It is 28 feet long with a 4 passenger capacity.
It boasts versatility between leisurely cruising and watersports. The setup in the cockpit and cabin is streamlined, making it feel bigger than it is inside.
Sea Hunt Ultra 229
The Sea Hunt is another smaller, entry-level cabin cruiser, and true to its name, it is perfect for longer fishing trips. This boat is about 22 feet long and costs about $50,000 used and $70,000 new. The Sea Hunt Ultrak includes every fishing feature under the sun, like underwater lights that attract fish, several baitwells, hook holders, plier and knife holders, two live wells and bucket storage, rod holders, and tackle storage.
The boat holds 19 gallons of freshwater with the attached shower head. The helm is covered by a large hardtop and is complete with comfortable feet and backrests. A mister system keeps guests cool, and the huge cushioned bow space keeps them comfortable. The boat accommodates about eight people.
Vintage Cruisers
Outrage 420 Anniversary Edition
This cruiser is $500,000 used and $1,000,000 new and rides more like a yacht at 42 feet long.
Outrage has combined pleasure cruising, fishing, and luxury all into one. The optional tower/secondary helm definitely makes a statement while out at sea but can be a little tricky to climb into, according to reviews.
Bertram 31 Flybridge Cruiser
The design of the Bertram 31 Flybridge is a well-known classic. This is a vintage boat, with the last one in production in 1986, but many owners have added on and modified this already stellar boat. It is 31 feet long and costs anywhere from $40,000 to $395,000, depending on the condition and features.
This is a great fishing and sport boat, with a huge 14-foot cockpit but a rather small cabin area. While this boat won't rock or throw you off your feet while trying to fish, it isn't made to go high-speed in rolling waves.
Related Post – Do I need to pay taxes on a used boat? Check this article to know the tax variations on used boats in different states.
Mid-Sized Cruisers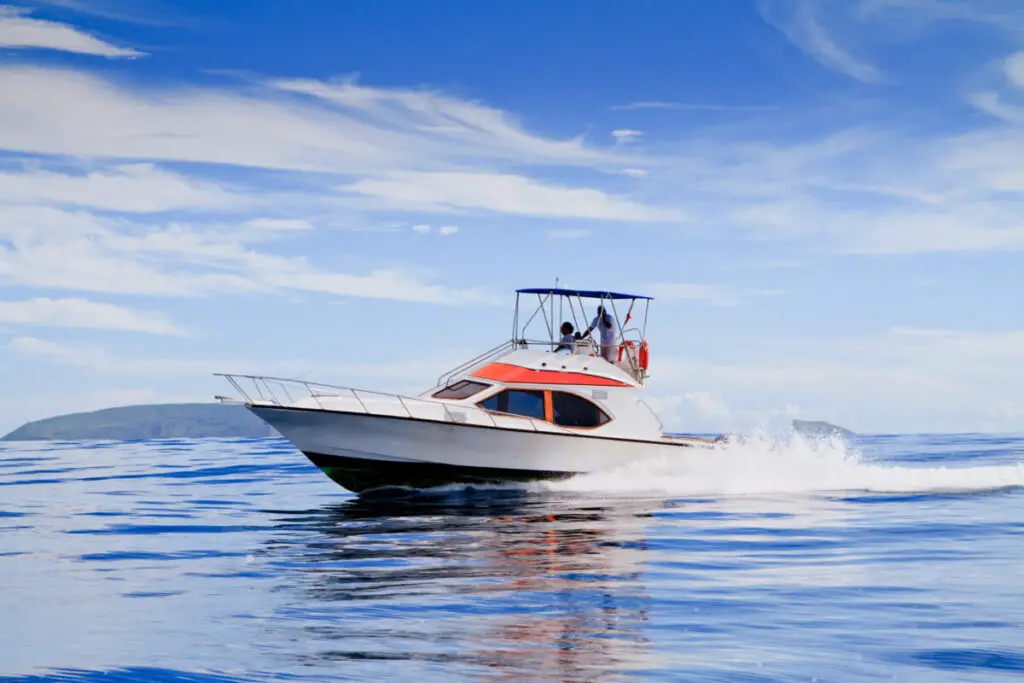 Four Winns Vista 255 OB
This cruiser is about $75,000 used and $200,000 new. It is about 26 feet long and has a 10 person capacity.
Although this boat appears small, it has a functional layout that utilizes the space. It has a versatile cockpit with optional seating arrangements and a kitchenette and cooler in storage. The private cabin below features a queen-sized bed and seven windows around the sleeping space.
Sea Ray 330 Sundancer
The Sea Ray 330 Sundancer is 36 feet long and is a boat that ages well, so it is often purchased used. A used boat costs around $30,000, and a new boat costs $250,000. Even the older models come with features that one might expect with a newer boat. It includes an above-average-sized padded sun deck area for lounging on the front of the boat.
It features a fully enclosed window cockpit with expandable circular seating, a wet bar, and a refrigerator all in the cockpit. The helm has a companion seat as well. The cabin includes gorgeous teak wood floors, a solid wood table, a glass top stove, and sleeps six people comfortably. It has standard seaworthiness ratings.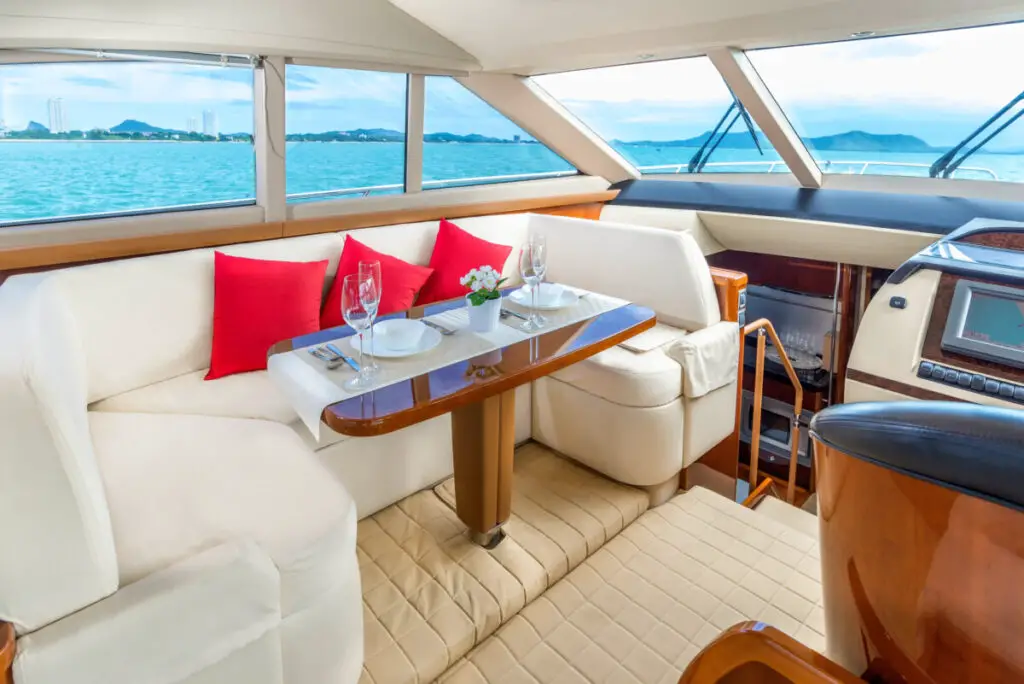 Glastron GS 259
This is a compact cruiser but sits higher above the water than a fishing cruiser boat. This 25 foot cruiser goes for $50,000 used and $100,000 new. It accommodates 10 people. It features flipping backrests that allow passengers to sit facing the helm or the water, a galley with a full bathroom, freshwater sink, and kitchenette.
The wide bow gives great headroom but not tons of storage space. This boat runs quietly but with plenty of power. The cabin includes large dining areas that can be converted into a sleeping space and a long glass window that gives passengers a full view of the water from the cabin.
The boat is trailer-able and includes a swim platform. This boat is large and easily handles large ocean waves, although the cabin is not completely enclosed.
EXPLR 9
This cruiser costs $70,000 used and $150,000 new and is 30 feet long. It comfortably fits 8-10 people but sleeps 2 in the cabin. It can cruise up to 30 knots, which is extremely fast for this class of boat.
This boat has extremely high sides and is made of fiberglass. It has a completely enclosed cockpit with a sliding door, a popup table, and swivel chairs. Inside the cabin is a large sunroof that lets in light.
The enclosed cabin has an AC unit, ample storage, a head compartment with a bathroom, and dock access across the bow. The high sides and enclosed cabin make this cruiser sea-worthy to handle some colossal waves safely.
Regal 33 Express
A medium-sized premium cruiser like this one costs about $180,000 used, $290,000 new, and 33 feet long. This type of cruiser easily reaches 30 knots and tops at 40 knots.
The cockpit has adjustable lounge seats that slide out to allow for an opened dining space. A small kitchenette is located in the back of the cockpit, which is called the "refreshment area," where a smokeless grill could be installed. Regal is known for superior quality hand-stitched vinyl seating.
The galley has a second kitchenette complete with cabinets, a microwave, and a stove. The bathroom has a sink, window, and shower. The bed below the deck extends into a king. The helm includes a dual seat. Central vac and AC as well. This sport cruiser is plenty sea-worthy.
Aspen C100
Aspen boats produce high-quality vessels that are catamaran-style, making them one of the most stable options. The Aspen C100 ranges from $300,000 to $500,000 and is 31 feet long.
A unique option offered is the aft control feature, allowing the captain to steer while in the aft. A partially covered cockpit has ample, comfortable seating. The galley has exceptional storage space with deep drawers and cabinets and a king-sized mattress down in the cabin.
Related Post – Where is the best place to buy a used boat?. Check this article to see 11 places (online & offline) where you can buy a used boat (Pros and Cons included).
Luxury/Specialty Cruisers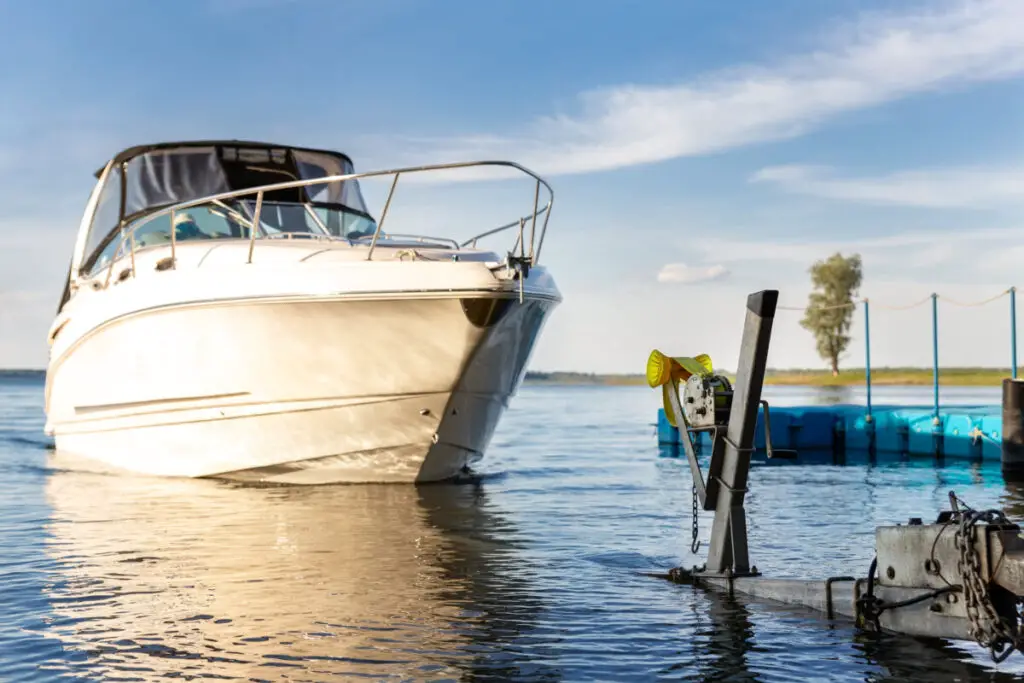 Greenline 39 Hybrid
The Greenline 39 Hybrid is a 39-foot cruiser and is one of the first hybrid electric cruisers boats. It launches with a diesel engine but collects energy from solar panels to run with the electric motor as well. This is a great option for those who spend more time cruising than speeding. Additionally, there is no noise and no diesel smell. It is a newer model and starts at $480,000.
It sleeps a large number of people and is a borderline yacht. Because of the power source, an electric stovetop, electric oven, and full-sized fridge are all included onboard. As a result, it has supreme seaworthiness ratings.
Grand Banks Eastbay 44
This 44-foot cruiser is $200,000 used and $900,000 new. The brand is known for boats that easily handle rough water, making them perfect for longer voyages. The capacity is 6 people.
The boat is designed for living on board with plenty of wardrobe space, a full-sized bed, and a large fuel tank capacity.
Aviara av40
The Aviara av40 is one of the largest cabin cruisers at 40 feet long, costing $700,000 used and $900,000 new. It is a larger boat (just a step away from being a mini-yacht), so it averages about 29 knots comfortably. It fits around 12 passengers.
This is a luxury cruiser with a ginormous open cockpit and lounge area with expandable terraces. It includes a fully equipped kitchen and gourmet wet bar, making it perfect for hosting parties. The cockpit is covered by a hardtop that converts to a sunroof.
The cabin features a queen bed and a convertible lounger sleeping four people below deck. This boat is too large to be trailed.
Final Thoughts
The most basic model of a cabin cruiser boat will cost about $30,000, while the most luxurious and largest cabin cruiser will cost about $900,000. The cost of a cabin cruiser depends on its length, model year, cabin/cockpit accommodations and furnishings, and speed ranges.
Deciding which cabin cruiser is suitable for you will depend on what kind of activities you are hoping to do in your boat, how many people you want to take with you, your budget, and many other factors.